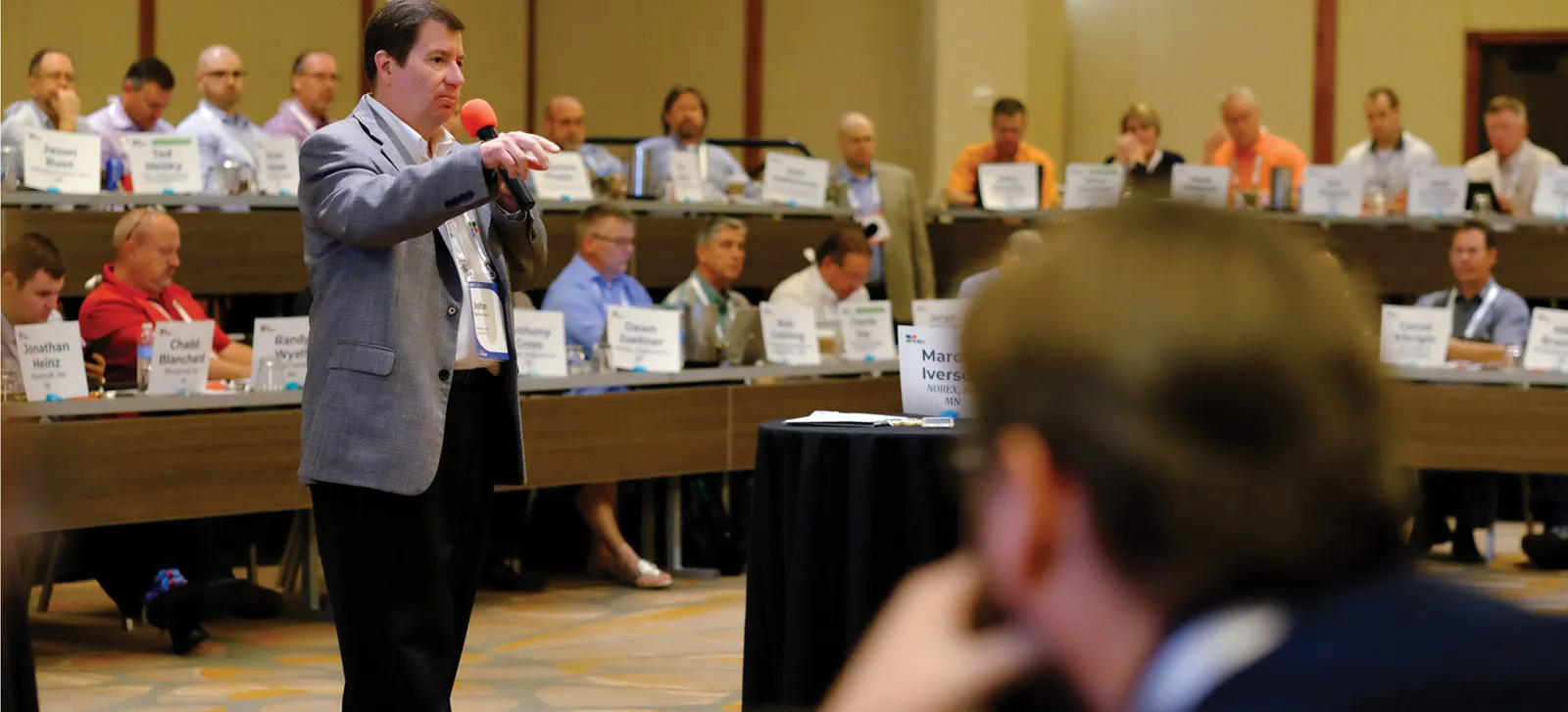 A Comprehensive Guide To NOREX IT Conferences For CIOs
In the world of technology, staying ahead of the curve is paramount. For Chief Information Officers and IT professionals, this means constantly expanding your knowledge base, networking with peers, and exploring innovative solutions in today's rapidly growing technology market.
NOREX's CIO events are peer-driven, vendor-free, and encompass a wide breadth of industries. Our unique hybrid approach includes both high-value virtual and live events, allowing you multiple access points to the latest industry breakthroughs and the flexibility to choose the conference format that best fits your needs and schedule.
In this overview, you will learn about the value of our CIO conferences and events, what sets NOREX apart, and the specific types of conferences that NOREX offers.
Peer-Driven And Vendor-Free CIO Events
NOREX's hybrid approach to IT conferences reflects a commitment to innovation and inclusivity. Whether in person or online, our CIO events are a trusted platform for knowledge sharing and collaboration in the expanding world of technology.
Peer-driven NOREX events feature Member presentations, Roundtable discussions, networking opportunities, and more. Our approach acknowledges the changing landscape of professional gatherings and responds with a dynamic strategy that caters to the evolving needs of IT professionals.
NOREX Events Are Vendor-Free
This means you won't have to sit through a sales pitch disguised as a presentation, find yourself enduring meeting requests for weeks after one of our professional gatherings, or be pitched a SaaS solution that doesn't address the complexities you face daily.
Instead, with NOREX, you'll get the facts: learning directly from your peers and their field-tested results.
Network At Your Level. Learn From Your Peers.
You will hear from other organizations about how they have developed, governed, and executed their strategies to deliver accurate, understandable, and actionable business intelligence to their organization.
You will also see how others have gotten buy-in from senior management, addressed difficult challenges, and grown ROI.
NOREX IT conferences allow you to gain effective insights necessary to develop ongoing vendor and service management strategies, better streamline resources and avoid surprises, eliminate downtime, and stay on budget.
In a world where technology has redefined the way we work, communicate, and learn, NOREX has embraced both live in-person and virtual IT conferences. This approach ensures that IT professionals can access the wealth of knowledge, networking opportunities, and resources offered by NOREX, regardless of their location or circumstances.

Common Topics Covered In Virtual And Live NOREX IT Conferences Include:
NOREX's live IT conference – 3-day Annual Live International Roundtable – allows you to have in-person, candid, peer-to-peer discussions that solve problems and foster long-term connections with fellow IT professionals.
Participant-driven agendas maintain focus with the help of a moderator.
Attendees can take advantage of breakout sessions with peers — including CIO-specific breakout sessions.
The absence of vendors and sales pitches ensures more information transparency and objectivity.
A dedicated staff facilitates 1-on-1 networking during and following events.
With NOREX membership, you get unlimited access to the Annual Live International Roundtable for no additional cost.
Attendees can participate in live Q&A sessions, engage in interactive discussions, and network with fellow professionals, ensuring that virtual attendees are active participants rather than passive observers.
NOREX's hybrid approach ensures that IT professionals can engage with their peers in whatever way suits them best. Whether attending a live event in person or participating virtually, the accessibility of these conferences eliminates geographical barriers and time constraints.
By embracing virtual IT conferences, NOREX has expanded its reach, transforming into a broad community of IT professionals. Attendees can connect with peers and experts from the US and Canada, enriching their perspectives and networking opportunities. This broad diversity fosters a rich exchange of ideas, experiences, and best practices that go beyond regional boundaries.
The hybrid approach to IT Conferences also enhances the cost-effectiveness of knowledge sharing. Virtual conferences eliminate the need for travel expenses. This affordability allows organizations to send more team members to gain valuable insights and knowledge without straining budgets.
NOREX has invested significantly in creating engaging virtual conference experiences. We host regular Virtual Roundtables where you can engage in peer-to-peer discussions, solve problems, and forge new relationships with professionals from different backgrounds in and outside of your industry.
Join Us For An Upcoming Event
The NOREX IT community welcomes guest participants. No IT vendors permitted. Simply click on the button to review the event calendar and request a guest pass.
With a NOREX membership, you get unlimited access to all events ...
Virtual Roundtables are 3-hour events held once a month.
Virtual Roundtable 55s are single-topic, 55-minute sessions usually held twice a week. Our quarterly Virtual CIO Roundtable 55 Series is specifically catered to C-level IT leaders.
The Virtual International Roundtable is a 5-hour event that features a Member presentation, professionally moderated discussion, and breakout sessions — including a CIO breakout session specifically catered to C-level IT leaders.
The Live International Roundtable is our 3-day marquee event held in Minneapolis. This event features several Member presentations, professionally moderated discussion sessions and breakout sessions — including CIO breakout session specifically catered to C-level IT leaders.
The Importance Of IT Conferences For CIOs
IT conferences offer an opportunity for executives, CIOs, and IT professionals to expand their expertise and stay updated with industry changes. The Roundtable discussion format provides a structured, comprehensive framework for synthesizing new information.
The insights gained at IT conferences often find direct applications in professional roles, enhancing the effectiveness of CIOs and their organizations.
Knowledge Sharing & Learning
At their core, IT conferences are platforms for knowledge sharing and learning. They provide a unique opportunity for attendees to deepen their understanding of the latest trends, emerging technologies, and best practices.
Whether it's discovering new developments in cybersecurity, unraveling the potential of artificial intelligence, or dissecting the nuances of Cloud computing and optimization, these events offer a comprehensive educational experience.
Networking & Collaboration
One of the most invaluable aspects of NOREX IT conferences is the networking opportunities they present. These events attract a diverse array of professionals in a related and unrelated fields, ranging from CIOs and CTOs to developers and cybersecurity experts. The mix of industry experts with different perspectives fosters an environment ripe for collaboration and the exchange of knowledge and ideas.
Exposure To Industry Trends
The tech landscape is dynamic and competitive, with trends and innovations emerging constantly. NOREX IT conferences give attendees a sneak preview as to what is on the horizon in the market, gaining firsthand exposure to the latest industry trends.
IT conferences are not just about acquiring knowledge and expanding networks; they are also a source of inspiration. Member presenters share their success stories, challenges, and visions for the future. IT conferences motivate attendees to push boundaries, embrace innovation, and lead their organizations toward a brighter technological future.
NOREX Events Are Built For CIOs In Every Industry
If you're in healthcare, manufacturing, construction, insurance, or eCommerce, NOREX caters to CIOs and IT professionals in every industry. Our virtual and live CIO conferences help leaders like you foster a culture of innovation while aligning IT strategies with your organization's overarching goals.
Learn and share effective strategies to:
Avoid "shiny object syndrome" and make better-informed decisions that benefit your organization.
Help executives across your organization better comprehend cybersecurity risks.
Adopt proven mitigation practices and develop effective response plans for a wide range of scenarios.
Whether virtual or live, our Roundtable events adopt a collaborative "share and learn" discussion format that delves into trending IT topics and issues, all skillfully moderated. Crucially, vendors are neither allowed to participate in nor sponsor these events.
The breadth of topics covered at NOREX events for organizational IT leaders is extensive, including:
Employee Onboarding & Offboarding
IT Asset Management / Digital Asset Management
IT Budgeting & Planning
IT Department KPIs
Cybersecurity Risks / Response Plans
Talent Recruitment, Management, and Retention
Evolving Role of the CIO
Supporting a Remote / Hybrid Workforce
Vendor Management
And more…
Focus On The Topics That Are Most Important To CIOs
NOREX events are designed to provide in-depth coverage of topics that are most important to CIOs and IT professionals. The knowledge you gain at our in-person and virtual conferences can help your organization anticipate shifts in the tech landscape, adapt its strategies, implement new technologies, and stay ahead of the competition.
The wide-ranging scope of our conference topics includes:
The importance of Information Security cannot be overstated. Failure to effectively implement data security strategies can expose organizations to data breaches, unauthorized access to sensitive information, and various threats that can put your organization and customer data at risk.
In a rapidly evolving security environment, staying well-informed will enable you to take proactive measures to safeguard your business from malicious actors. With NOREX virtual and live events, you'll learn how your peers have developed and implemented their own enhanced security capabilities to mitigate risk and respond to events like DDoS attacks.
You will also discover how effective governance practices can strategically minimize the likelihood of breaches, demonstrated by real-world examples.
Conference topics related to IT Security, Risk Management, and Governance may include:
Antivirus Filters & Firewalls
Backup / Recovery / Restore
Cybersecurity
DevSecOps
Disaster Recovery
Endpoint Security
Identity & Access Management
Incident Management
Multi-Factor Authentication
Patch Management
Risk & Vulnerability Management
Security Frameworks
Dealing with numerous third-party entities is fundamental to corporate IT operations, and efficiently overseeing these relationships is a vital part of security, risk mitigation, and the overall quality of your company's products or services. Through NOREX events, you can gain insights into how your peers have utilized vendor partnerships to not only meet but also surpass their IT and business objectives.
Conference topics related to IT Vendor Management may include:
Selecting The Right Vendor
Reducing Supply Chain Disruption
Strengthening Supplier Relationships
Negotiating Better Rates and Prices
Monitoring Vendor Performance
Monitoring and Managing Risk with a Vendor
Payment
And more …
Your organization's foundation is its IT infrastructure. Through NOREX events, you have the opportunity to harness shared insights from fellow industry professionals and gain an understanding of how the evolution of IT infrastructures is driven by advancements in Cloud computing, storage, automation, and workplace security.
Learn from your peers the ways in which hardware and software choices have driven success and how they navigated challenges encountered along the way.
Conference topics related to IT Infrastructure and Operations may include:
Scaling Your Infrastructure
Managing The Hybrid Environment
Cloud and Infrastructure Security
Preparing For Disruption
Improving Network Performance
Budgeting and Vendor Relationships
The process of aligning your IT infrastructure with your Enterprise's business goals is a familiar challenge, and one that has become more critical with the expansion of cloud technology. Through NOREX events designed for EA and cloud experts, you have the opportunity to gain valuable insights and practical wisdom from industry leaders who have successfully managed massive projects.
Conference topics related to Enterprise Architecture and Cloud may include:
Cloud Strategies
Enterprise Architecture
Everything as a Service (XaaS)
Hybrid and Multi-Cloud Initiatives
Hyper Converged Infrastructure
Network Management
Network Visibility and Control
SD-WAN
Telecom / VoIP / Mobile
Virtual Desktop Infrastructure (VDI)
Business intelligence is critical for an enterprise's success, but it has also become exponentially complex as information-gathering tools evolve and the data collected from competitors, the marketplace, customers, and vendors becomes more complex.
At NOREX events, you gain insights from IT peers about how to optimize your data and business intelligence strategy for the future.
Conference topics related to Data and BI may include:
AI / Machine Learning
Cloud-Based Storage
Data Analytics
Data Governance
Data Loss Prevention
Document Management
Enterprise Storage Solutions
SQL Server
A lot of financial and engineering resources – as well as time – can be wasted by investing in the wrong solutions and frameworks for your project. Learning from your NOREX peers will enable you to build a stronger application roadmap and adopt effective quality assurance solutions.
Conference topics related to Application Development and Software Engineering may include:
Applications Roadmaps
Creating Cloud Applications
API and Microservices-Based Applications
Managing Large-Scale Data Flow
Programming Languages
Systems Software Design and Implementation
Quality Assurance
Agile, Waterfall, and Other Project Management Methodologies
Every IT project comes with its own unique challenges, which means that standardized project management solutions often fail to satisfy most tech enterprises. IT projects vary wildly in scope and pose diverse challenges such as risk assessment and management, systems integrations, software updates, and more. With the experience shared from your fellow professionals at NOREX events, you can explore innovative approaches to effectively handle your portfolios and projects.
Conference topics related to IT Project Management may include:
Creating Gantt Charts, Kanban Boards, and Dashboards
Crafting Project Proposals
Feasibility Studies
Design For Success
Project Management Tools
Implementation and Monitoring
Get The CIO Insights You Need To Excel At Live & Virtual Conferences
IT conferences are instrumental in equipping CIOs and IT professionals with the tools, insights, and connections needed to excel. They serve as knowledge hubs, networking epicenters, trendsetters, and catalysts for innovation. Whether attending in person or virtually, NOREX's IT conferences empower individuals and organizations to navigate the digital landscape with confidence and competence.
As a peer-driven organization, NOREX stands at the forefront of the ever-evolving tech landscape by providing a unique platform for CIOs and IT professionals to share experiences, gain valuable insights, and collectively drive excellence.
Request More Information
Here
Request Resource Assistance Here