Become part of an IT community where you can share and learn among peers from all industries.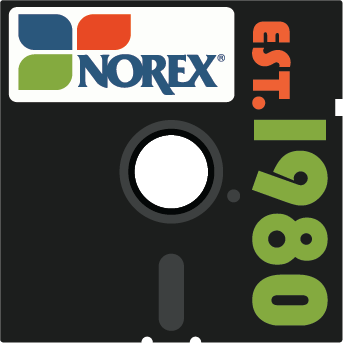 Join our IT community to save time and avoid costly mistakes by tapping into the experiences of others. As a NOREX Member, you receive unlimited access to virtual IT events and live IT conferences with "share and learn" Roundtable discussions, peer-contributed IT documents, as well as IT toolkits. Membership also includes a personal networking assistant – all with no vendor influence.
Network with Information Technology peers from NOREX Member organizations & more!
What Our Members Are Saying
"NOREX just paid for itself in the first week!"

CIO, RETAIL ORGANIZATION
"Success used to be implementing what we do not know with what we do know. Today it is implementing what we do not know with what we do not know. The ability to share and learn from our peers is more important than ever. I'm glad we have NOREX to help us all on the journey."

DIRECTOR, ENTERPRISE ARCHITECTURE, FORTUNE 500 COMPANY
"I've been a NOREX Member with three different organizations because of the value their resources bring to my IT teams."

CIO, RETAIL ORGANIZATION
"With NOREX, we have the ability to ask questions, seek to understand, find solutions to problems, and build lasting relationships and connections in a non-judgmental environment."

RISK MANAGEMENT EXCECUTIVE, FORTUNE 100 INSURANCE ORGANIZATION
"Our entire IT staff has access to all NOREX services for a single nominal fee that is a fraction of what an equivalent service from Gartner and others would cost for one seat."

NETWORKING INFRASTRUCTURE & OPERATIONS DIRECTOR, HEATHCARE ORGANIZATION
"NOREX has been a key component in my professional success over the last few years."

CISO, FORTUNE 1000 COMPANY
"We were just discussing internally how cool the NOREX Roundtable 55 was – some great insight from others, great moderation, and all. It was fantastic and far exceeded my expectations!"

SYSTEM ADMINISTRATOR, 1ST TIME NOREX ROUNDTABLE 55 DISCUSSION ATTENDEE
"We greatly appreciate the discussions and the opportunities to cross-share knowledge and lessons learned with our peers and others undergoing similar endeavors. This is a very valuable part of the service provided by NOREX."

IT ASSET MANAGER, FORTUNE 1000 COMPANY
Taking this first step to become a Member will help you make informed decisions and avoid costly mistakes. Learn how to join the NOREX IT community and request a FREE quote today!
An IT Community With Over 25,000 Combined Years Of Experience Awaits.
The NOREX IT community of professionals brings over 25,000 years of combined experience and a genuine willingness to help each other via Roundtable discussions, sharing real working templates, and 1-on-1 networking. Our community looks forward to your participation.
How NOREX Supports The IT Community
NOREX professionally manages and offers a unique set of resources for our large, multi-industry Information Technology community.
NOREX has a professional Event Team that manages over 75 events annually. The NOREX Event Team …
Peer-Contributed Templates
NOREX manages a database of 2,500+ IT documents that is continuously updated and categorized / tagged for ease of search. Documents include …
Personal Networking Assistant
NOREX has a dedicated Member Success Team to coordinate personal networking and resource assistance. Your Member Success Manager will help …
Here's Some Of What You'll Get
Explore upcoming events and documents you'll experience as a NOREX IT Community Member below.
Key Benefits Of Your NOREX Membership
Learn how NOREX can help you from the very first day of your membership. Document templates, personal networking, and executive summaries from events are immediately available.
Contact us to schedule a conversation to get all specifics about joining the community and how it will benefit your success.
Great Questions You Might Be Asking
These are just some of the answers to questions you may be asking. Find more with the button below.
The best way to understand the difference between a NOREX event vs a typical vendor-sponsored IT event is to experience it firsthand. Request a guest pass today and see what you've been missing!